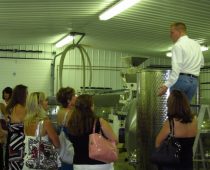 Staller Estate Vineyard and Winery tours are technical, very comprehensive and guided by our winemaker or assistant winemaker. We discuss all aspects of wine, from the ground to the glass. Tours are an entertaining and un-intimidating experience great for all groups (senior groups, bus tours, bachelorette, birthday, business retreats, etc.) Tours typically last 30-60 minutes depending on group size and your interest in wine. Tours consist of a vineyard (weather permitting) and winery followed by a wine tasting of 4 wines. Most area of the tour are handicap accessible.
Pricing
10 or less, reservation recommended but not required; $4 per person
11 or more require reservations at least 7 days in advance.
Tours buses Welcome, group rates available