Wine & Dine pairing  5/7/17, noon
Enjoy local foods prepared by Tyler from Black Sheep of Whitewater, excellently paired with Staller Estate Wine.
A  5 course menu to treat Mom in appreciation of all the meals she has served you!
The 5 Mother sauces
The 5 Mother sauces are a major foundation of French Cuisine in the same way that the mother is truly the foundation of a strong family. So we honor our Mothers with the 5 Mother sauces!
-$45 per person plus tax
-Reservations are required
-Please call about our cancellation policy
Menu
Appetizer: Mini Croque Madam – A Grilled Croissant Topped With Local Ham And Gruyere Cheese Topped With An
Egg, Covered In A Veloute Sauce
Soup: Tomato Soup (Our Play On The Traditional Lasagna) With A Thin Tomato Sauce Soup With Ricotta, Noodles, And
Herbs
Salad: Warm Kale, Bacon, Mushroom Salad Topped With Hollandaise Dressing And Tossed Garlic Bread Points
Entrée: Slow Roasted Bison Risotto Drizzled With An Espagnole Sauce, Served With Grilled Asparagus
Dessert: Strawberry Shortcake (Using Local Strawberries) Topped With A White Chocolate And Pineapple Béchamel
Sauce And Fresh Whipped Cream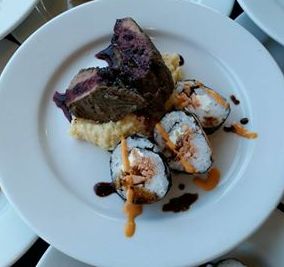 Here Are The next Wine and Dine Dates. You Can Book early, space is limited, they fill up fast!
June 11th @ 12noon $ 35.00

Aug 13th @ 12noon $ 35.00