Wine & Dine pairing  12/10/17, noon (reservation required by 12/8)
Enjoy local foods prepared by Tyler from Black Sheep of Whitewater, excellently paired with Staller Estate Wine.
A  5 course menu to get you in the spirit of the Holidays!
A Norman Rockwell Christmas
This menu is inspired by Norman Rockwell Christmas. Chef Tyler will put an inspiring and traditional twist that painting of a perfect Christmas.
-$45 per person plus tax
-Reservations are required
-Please call about our cancellation policy
Menu
Appetizer: Fig and Brie En Crute
Soup: Sweet Potato, ginger and curry soup with creme fraiche
Salad: Brandy Old Fashioned Salad
Entrée: Smoked turkey breast with Wisconsin cranberry glaze and a fresh cream cheese stuffing
Dessert: Candy cane cake with ice cream and fresh whipped cream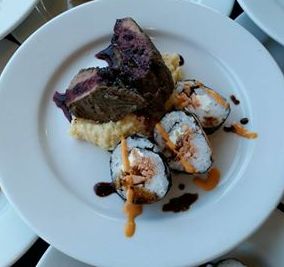 Here Are The next Wine and Dine Dates. You Can Book early, space is limited, they fill up fast!
Christmas Inspired Wine & Dine 12/10/17 $45/person plus tax